One More "Alem" Participant Will Visit America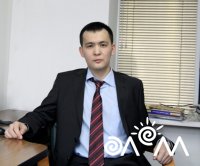 Two months ago we received an interesting resume from one of the applicants of "Alem" Young Talents Support Program
Akhazhanov Ablaikhan
. Gifted young man with great ambitions wants to change the world to the best and always strives for the achievement of stated goals.
Ablaikhan started his educational way from the physico-mathematical school. Having completed the school with honours, he entered the Almaty Energy Institute on the specialty "Radiotechnics, Electronics and Telecommunications". Parallely Ablaikhan got the second higher education in the Moscow Energy Institute. He participated in many city and republican school academic competitions on physics and mathematics and won medal places.
Ablaikhan decided to dedicate his future to scientific work in the sphere of nanotechnologies. The beginning engineer managed to find proper laboratory in Almaty and to obtain the permit for experimental investigations of nanomaterials named
"graphene"
. To continue to do his hobby at more serious level Ablaikhan dreams to continue the education in
UCLA California University, Los Angeles city.
Ablaikhan says: "I want to create innovative products in the market of electronic devices. I think that three main elements are necessary for the development of any innovation: technology, production and market. Technology is a scientific or engineering idea, on which the innovation is based. The production involves the processes and instruments of technology transformation into a real product. The market is responsible for the delivery of product to final user and provision of continuity of the technology-production-market cycle".
The young man filed the request to Saby Foundation about the education financing in Master's degree program of California University after long searches of support in other foundations and companies. Finally, having passed the multiple-stage selection in our Foundation, he received the expected grant. This encouraging news the new "Alem" participant conceived with a great joy and modest smile. It seems that a young scientist shall have such image, which combines the sense of purpose, unique talent and modest intelligence.
 
Publication date: 19 June 2014 | Views: 778
For pretenders
"Alem" Participants Diaries